Convenience is what these meals are about
Our frozen is fresher than fresh!
Phone 03 453 1000 for help with online ordering.
You can now use Afterpay!
4 interest free fortnightly payments!
Fast nationwide door to door delivery. Very affordable
Honest natural frozen meals with unreal flavour
Just 2 clicks & 1 sleep and they'll be in your freezer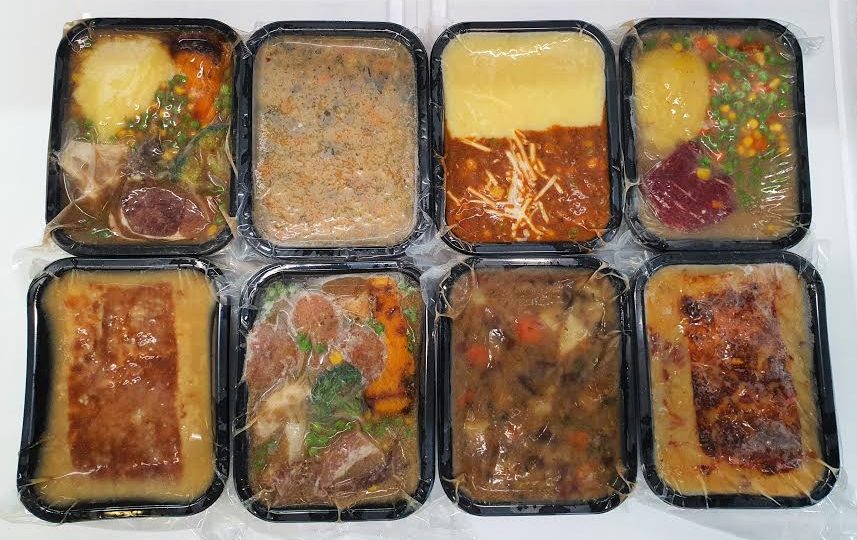 Frequently Asked Questions
What is Á La Carte?
This is our meals in a completely customisable shopping experience. You choose the exact meals you want.  À La Carte is here for you, when you want to have complete control of your meals, or simply add some more of your favourite meals to an order. You can combine set menu meal packs with À La Carte selections, as long as your total meals is 8, 16, 18, 24 or 30.
Why must I buy my meals in specific quantities
The minimum meals we allow for purchase is eight. This is our default shipping quantity. This is to ensure a snug fit for maximum chill factor. We also ship in increments of 16, 18, 24 and 30. We don't allow for the shipping of quantities between these increments for the same snug fit and maximum chill reason. We always suggest to use Àl La Carte selections to upgrade 16 meals to 18, and 24 meals to 30. The shipping cost will not increase, which will give you the most cost effective shipping. If you wish to buy over 30 meals, please contact us to organise the optimal shipping for food safety and cost effectiveness.
How long does it take to ship?
Our packaging allows for up to 60 hours (2.5 days) or more which is rarely needed. 90% of our packages are delivered next day. It takes two or three days and you find the top meals start to soften keep them at the front of the freezer to use first. Alternatively keep them in your refrigerator for up to five days.
What happens if my meals arrive while I'm at work?
The friendly NZ Couriers driver will leave them in a non conspicuous spot near your door step. Note to self "Don't forget bbquick meals when I get home". If you are in Dunedin or Mosgiel, and choose Doorstep handover shipping, the meals will be left on your doorstep. These are packaged in a snug cardboard box rather than styrofoam boxes.
Special Notes
If you are paying via bank transfer, please remember to use your Order ID as reference
Same day South Island destinations are dispatched Monday to Friday mornings only
South Island next day destinations are dispatched Monday to Thursday, orders must be in by lunch time to be included for dispatch on same day as ordering
North Island orders  are dispatched Monday to Thursday, orders must be in by lunch time to be included for dispatch on same day as ordering
Rural orders are delivered within a 2-3 days of dispatch (as per courier), additional cost applies
Pick ups from our office/shop – Monday to Friday between 10am and 1pm (outside of these hours by arrangement only)
No overnight residential address destinations are dispatched on Friday's, No rural parcels are dispatched after Wednesday and no weekend deliveries
Can't read the heating instructions?
Heating Instructions: simply reheat from frozen (no need to pierce) in the microwave on high until piping hot
(all microwaves are different)
# for best results – microwave on high 4 minutes then rest for 10 minutes to allow permeation – then again microwave on high for 2-4 minutes but this time watch the meal as the bag may puff right up – if so then open the door and let it wilt down then resume – or heat for 1 minute at a time until piping hot …. you will find your own special technique
# for further information on how to heat please call or message us